Fires can wreak havoc on homes or businesses. When thinking of a fire, most of us think of the damage the fire itself will do to our home or business. But, people often forget the amount of damage smoke can do to not only the structure, but the contents inside. Smoke damage can have lasting effects on you, your family and your belongings if not taken care of properly by professionals. Smoke will cause discoloration, corrosion, and leave a strong odor. The majority of smoke damage occurs where the fire occurred, but we know air flow and ventilation systems disperses smoke into closed spaces and rooms far from where the fire originated. Time is of the essence when dealing with fire and smoke damage. Smoke will cause more damage and increase restoration prices, the longer you wait to call trained professionals like those at Disaster Response.
Ignored smoke damage can have lasting effects on your health, and your belongings. Smoke is made of carbon dioxide, particulate matter (soot), and carbon monoxide. Depending on what is on fire, smoke can release many other harmful toxins into the air like aldehydes, acid gases, sulfur dioxide, nitrogen oxides, polycyclic aromatic hydrocarbons, benzene, toluene, styrene, metals, and dioxins. When you breathe smoke in or remain living in a house that has been smoke damaged, these chemicals are brought into your body causing problems. These problems can include burning eyes, runny nose, aggravated chronic heats, and lung diseases.
Disaster Response is IICRC certified and we specialize in fire damage restoration, and smoke and soot removal. In an already stressful situation, we want to make the restoration process as easy as possible for you and your family. With Disaster Response, you get 24/7 emergency service, professional advice, and help with insurance claims. Each step of the cleaning and restoration process is important to ensure full removal of smoke and soot.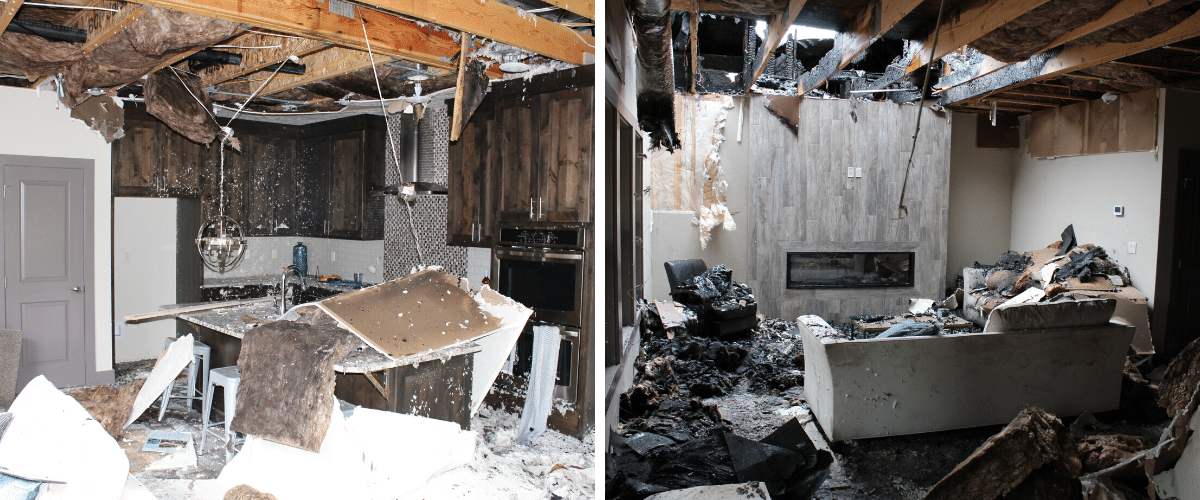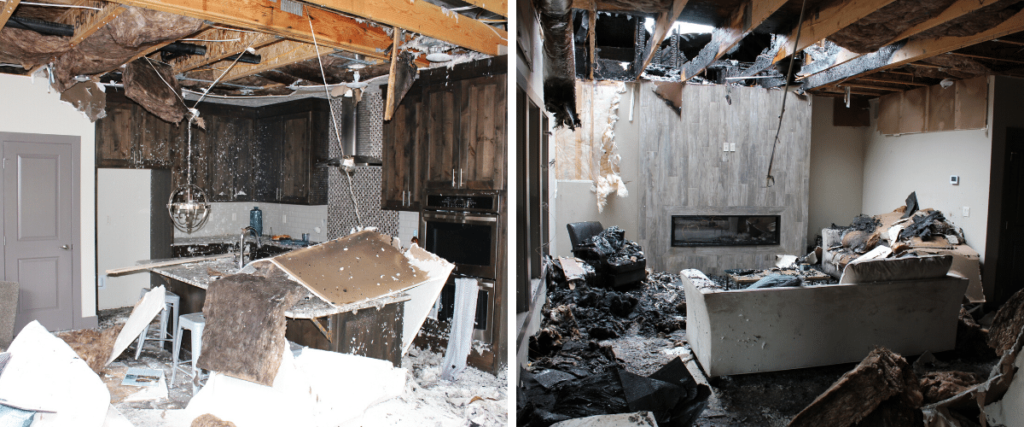 Our fire damage restoration process includes:
• 24/7 emergency service
• Thorough Inspection and help with claims
• Emergency board up service
• Structural stabilization
• Water removal/extraction and drying
• Itemized tracking and restoration of belongings with our cutting-edge contents facility
• Smoke and soot removal
• Decontamination and deodorization
• Demolition
• Reconstruction of affected areas
If your home or business experiences damage due to a fire, we are here to for you 24/7. You can count on us to help you through every step of your fire repair. Call Disaster Response sooner than later to reduce damage and costs; contact us anytime at (844) 315-3100 or request help on our website.