For a quick guide and a loss list sheet, click HERE to download the PDF.  The following article covers what to do when property damages happen, and how to work with your insurance company to ensure the maximum reimbursement.
Home-ownership has copious benefits as opposed to renting, but that is no secret.  From making renovations the way you'd like, to saving and investing your hard-earned money instead of handing it to a landlord.  On the downside though, when things go wrong in the home, like fire and smoke damages, structural damages, a broken water valve causing water damages that could lead to mold growth, or whatever disaster may strike your home, you are responsible to take action to mitigate the damages.  So, what do you do as a homeowner when disaster does strike?  Well, if you are a homeowner, then you will have insurance on your home.  Many people do not know what their policy covers in the event of a home disaster.  They usually only find out this information when a disaster strikes.  We highly advise you to be proactive before the fact and review your plan with your agent to ensure there are adequate limits for your home and belongings.  Think about it this way- If your home were to catch fire and it was a total loss, would your limits on your plan cover everything?
When the unthinkable does happen to your home what is the first step you should take? There are a few things you should be aware of before you are in a disaster situation.  Below is a step-by-step list of what to in the case of a home disaster.  We have also created an emergency sheet to keep on hand to help guide you through the often chaotic experience of loss in your home.  To download this printable PDF click HERE.
Call your insurance company as soon as you notice a problem. You need to get the ball rolling to get your home repaired, and you have insurance on your home just for these instances.  Inform the insurance carrier of the situation immediately, since they will be the ones paying for it, minus your deductible.
If safety is not an issue, it is your responsibility to prevent further losses. For example, if you have a water valve that has broken or sprung a leak, turn off the water main as soon as possible, or if there are items that could be saved in the home by simply moving them away from the water, you should move them.  If there is a concern for safety when preventing further loss, like a tree has fallen on your home, it is not reasonable to put yourself or your family at risk.  Call for help and get your family to a safe location.
If you incur any expenses while protecting your property, make sure to keep receipts in order to be reimbursed by your insurance company.  Also, keep in mind you must always inform your insurance company if you are doing any repairs.  Some contracts require approval before any work is done, by you or a contractor.  If you were to perform the work or have a contractor perform the work before notifying the insurance company, there is a good chance they will not pay for the work.
Salvage any items you can after you have assessed the situation and it is safe to do so. When you are going through your items, and there are items that seem destined for the trash, do not throw them away if you expect to be reimbursed by your insurance carrier.  They will often need proof of the item and the amount of damage it received before they will write you a check for them.
Photograph and video everything. While it is true that your insurance adjuster and the restoration company of your choice will document the loss in depth, most of us have a cell phone that can provide easy documentation of the loss when it first happens. This can be useful later in the process if there are discrepancies on items or areas of the home that have been damaged.
Create a detailed loss list. This can be a daunting task depending on the amount of loss, but absolutely necessary if you expect to be reimbursed for your items in your home.  In your list provide the item description, the cost at the time of purchase, condition of items, and the cost to replace them.  Receipts are always good if they are available, but that may be difficult or impossible.
Call a disaster restoration company of your choice. While your insurance company will have a list of companies that they may prefer, you as a homeowner will have the choice to choose the company you would like to have work on your home.  This is a common misconception in homeowners.  Often they will think that the insurance company is providing you with the best and most reputable company, but do not be fooled by this.  Insurance is ultimately a business, and money is what drives business.  Your insurance carrier may suggest a company off of their pricing and not their quality of work and service.  We highly recommend doing a little research on some restoration companies and making your own decision.
When choosing a restoration company, ask for references of current jobs or recently completed jobs.  Check with the Better Business Bureau for any unresolved complaints.  Ask the contractor about their credentials, certifications, and working relationship with the insurance provider.  Disaster restoration companies differ from normal construction companies with additional certifications when dealing with losses.
While many homeowners may feel like they can do the repairs on their own to save money, this can be a slippery slope at times.  Take for instance a leaking water line.  If the homeowner mops up the mess, calls a plumber, or does it themselves and stop the leak, the job is done, right?  This could be true, but often water finds ways to penetrate into materials.  If the materials aren't completely dried out, mold can form.  Mold isn't usually covered in policies and later when the mold is discovered your insurance company will not pay for repairs, it will be up to you.  Professional restoration companies have the experience and tools to ensure the job is done right and guarantees their work.
Once you have gotten the repairs started, keep in contact with your insurance company and restoration company. With Disaster Response, communication be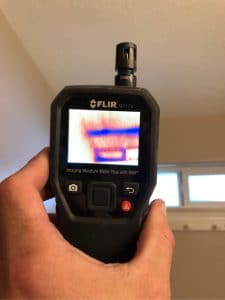 tween clients, insurance and us is easy.  We provide daily updates that can be seen through our management software.  Here you can see up to date progress of the work being performed. One thing to keep in mind when the restoration is in progress is when the restoration company is removing damaged materials from your home, sometimes there are additional issues unrelated to the damages that may be present.  These can be things that were not visible before or there may be some code violations when the home was first built that may need to be updated.  Your insurance company may or may not pay for these issues.  Before the work is performed on these items, contact your insurance adjuster for approval.  If your adjuster denies payment for these items, you may want to consider paying for them yourself.  It is much cheaper to fix these issues when they are exposed as opposed to tearing out materials later to fix them.
After the restorations have been completed to your satisfaction, the insurance company will issue your restoration company a check for the work performed.  The remaining claim on your other losses in the home will usually be in the mail 30-60 days after
the submittal of a signed proof of loss.  If the amount your insurance company provides does not seem right, you have the right to request arbitration.  This can be done even after you have already received any advanced payments.